Pool & Spa Services Overview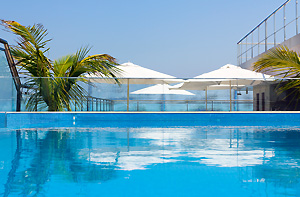 Trust us to take the important task of maintaining one of your most valuable assets, your swimming pool or spa.

We are experts in handling the demands of Southwest Florida's climate to ensure a clean and safe pool environment year-round. With over 12 years of experience, we have the professional expertise as well as the commitment to keep your pool and your in-ground or above-ground spa in great shape so that you, your family and guests can enjoy it without worry.

We not only keep your pool or spa sparkling clean, but we can repair/replace your pool equipment (or refer someone who can) when needed.
Our Maintenance Program
Weekly Pool Services:
Our weekly service plans are designed and customized to meet the needs of the pool and the pool owner.
Check & Balance Pool Chemistry
Brush Pool Walls & Bottom
Brush/Clean Tiles
Clean Skimmer Basket
Skim Pool Service
Monitor Equipment
As-Needed Pool Services:
The following services are included in our standard pricing, but are provided on an as-needed basis.
Backwash Filter
Adjust Pool Water Level
Algae Control
Clean Pump Strainer
Vacuum Pool
Shock Pool
Clean Filter Cartridge
Optional Pool Services - Additional Fees
Water Treatment Systems:
The following services are not included in our standard pricing, but are offered as an alternative to the standard liquid chlorine water treatment system. Call us to learn more about these options.
Salt Chlorination System
Ultraviolet Light and Ozone
Nature2 Natural Mineral Sanitizers
Testimonials

Frank D.- Estero, FL
"New customer of 6 months, best service in the past 12 years. Very reasonable pricing, our water has never been clearer, minor repairs done for a fraction of the cost by a previous company. We recommend to others."

Larry F.- Bonita Springs, FL
"On time every week, service tech very friendly and accommodating. Concerns and problems are addressed promptly. Fair prices."

Sally L. - Estero, FL
"All-inclusive service package meets all my pool's needs. Excellent attention to detail every week. Affordable pricing."

Peter - Bonita Springs
"Long time customer, I trust and recommend Estero Pool Services to any pool owner."

Stacey N. - Estero, FL
"Estero Pool Service provides excellent pool cleaning and service at a great price. You can always count on Gary and Kelly to keep your pool sparking clean!"